Along with Texas and Florida, California has long been known for producing the highest level of tennis in the USA throughout the years. A big reason for that? There are countless California academies that function year-round due to immaculate weather.
Growing up and going to college in California myself, I have had personal experience with many of the academies we list below. My promise is that from my knowledge, I would send my own child to any of the academies listed below. And trust me, there are many that I had to leave out. There are many more great ones in the area, but these are the ones that we can vouch for most confidently.
Junior academies are a great option if you're looking for something where your child can develop as a player and a person. It can be difficult to find all the information you need in one place, so we've made this article to lay it all out for you. Let's face it, looking at Yelp reviews for tennis academies just isn't going to cut it. This is an important decision, and you are much better off asking the experts. Luckily, we have experience with many of them and are here to tell you which ones are best.
Because California is such a large state, we felt it necessary to differentiate between Southern California and Northern California. We include information such as location, price, academy goals, and schedule.
The tennis academies featured in this article have proven to be successful by their track records. Each has a resume showing their production of high level players throughout the years. Most of them have been a training hub for future division 1 college players, as well as highly successful professionals. Whatever your child's goals may be, these 10 academies can help to achieve them.

Top 5 Academies in Southern California
#5 – Weil Tennis Academy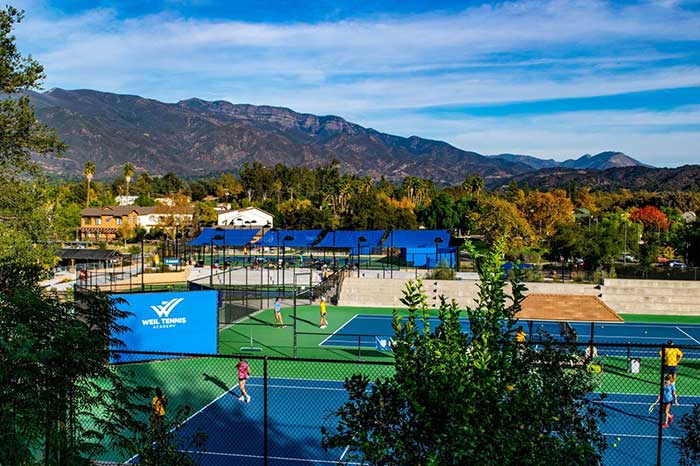 One of the best tennis academies in California, Weil Tennis Academy is a hotspot for young tennis talent across the world. Located in Ojai, California, facilities include 22 courts, a pool, jacuzzi, a nice gym, restaurants, dorms, and classrooms.
Weil Tennis Academy emphasizes a path that leads students to the best universities in the United States. Their website mentions that the academy has the #1 rated college placement program in the world. Students that have graduated went on to play at schools such as Stanford and UCLA.
The cost for a full-year of tennis, school, and boarding is about $48,550.00 per year.
Weekly Schedule at Weil
For more information about Weil Tennis Academy, visit their website at weiltennis.com
#4 – Jackson-Bridge Tennis Academy
Jackson-Bridge Tennis academy is located in Orange County, California. Specifically, it is based out of the Los Caballeros Sports Village. This facility was rated the #1 sports club in Orange County because of its 23 great tennis courts, 2 gyms, 3 pools, and beautiful racket ball facility.
The academy has options ranging from weekly private lessons to full time boarding. Their main goal is to examine the level and goals of each player, then create a path to achieve those goals.
According to their website, "The Jackson-Bridge full-time academy is for local, and international, boarding and non-boarding players who are looking for college placement or pro career development. Custom training plans are put together after a thorough player evaluation."
Full Time Academy Includes…
Small Group Training
Private Lessons
Custom Training
Match Play (UTR ladders, team based points, situational points)
Fitness (agility, strength, speed, and balance work)
Academics (program coordination, individual instruction, accountability)
Tournaments (traveling)
Boarding (on-site)
For more information about the Jackson-Bridge Tennis Academy, see their website at jacksonbridgetennis.com
#3 – Advantage Tennis Academy
Advantage Tennis Academy is located in Irvine, California. It is widely known to produce top notch players at the collegiate and professional level. Advantage is based out of The Racquet Club of Irvine which includes 22 hard courts, 6 clay courts, a spacious gym, and a large swimming pool.
Founder and Director Jimmy Johnson has a track record of over 25 years of coaching experience. His hands-on involvement in daily training is one of the biggest reasons for the academy's success.
Advantage offers versatile training packages so that you will be able to find the perfect one for your needs. They offer individual lessons, after school camps, and full time training for both boarding and non-boarding students.
Advantage Sample Daily Schedule
For full time training, Advantage Tennis Academy costs about $42,000/year including boarding. Lower cost packages are also available.
For more information, visit the Advantage website at advantagetennisacademy.com.
#2 – Tennis Mechanix (TMX) Academy
The Tennis Mechanix Academy (TMX as it is referred to in Southern California) has produced many collegiate level players over its existence. It was founded in Burbank, California by Cecil Mamiit and Joel Dacay. Mamiit is a former world no. 72 professional player and has a long track record of juniors he coached that have excelled through to the college and pro level.
TMX offers both after school and homeschool programs for players between the ages of 7 and 18. Their training lies on 3 simple but essential pillars for success: hitting drills, point play, and fitness.
Hitting drills to improve all around skills, placement, patterns, timing, recognition, and weapons.
Point play to incorporate the technique, skills, and footwork learned in drilling into a live-ball situation.
Fitness to improve hand-eye coordination, tennis specific conditioning, speed, injury prevention, and longevity.
For more information, please visit their website at TMXacademy.com.
#1 – TennisPower Academy
TennisPower Academy is a world-class training facility located at Peninsula Racquet Club in Southern California. Overlooking the Pacific Ocean and majestic Catalina Island, the Academy prominently sits on the cliffs of the beautiful Palos Verdes Peninsula. It boasts 12 fully lit courts with an amazing ocean view clubhouse and terrace, locker room and pro shop.
TennisPower Academy is owned and managed by Oliver Messerli, a WTA and ATP touring coach with 25 years of developmental experience. He has been the traveling coach of names such as Mary Pierce, Lisa Raymond and Jason Jung. The Academy is home to several current touring professionals that work closely with TennisPower coaches on and off the court.
Aside from tennis, training includes tennis-specific outdoor gym conditioning and fitness training. A physiotherapist is available to the athletes as needed.
TennisPower Academy is smaller than most boarding academies, which allows more individual attention for players to receive from their coaches. The academy prides itself on being able to tailor specific goals and objectives with the needs and personalities of each unique athlete in different stages of their development.
Attentive coaches guide professionals and ITF players on and off the court from technical development to physical and mental conditioning to tournament and travel planning. They also structure serious junior players toward their ultimate goals; whether it's following a path to play college tennis or pursuing the ITF platform. Players are able to leverage on TennisPower Academy relationships with many college coaches and countless years of travel on the junior circuit.
The Academy offers a full training schedule year round for traveling professionals, home-schooled players and all juniors looking to attend an after-school program. Full-time programs account for 15 to 20 hours of training on court and 5 hours of conditioning and mobility/flexibility work weekly.
TennisPower Academy Weekly Schedule
For more information, visit peninsularacquetclub.com or @tennispoweracademy on Instagram.
Top 5 Academies in Northern California
#5 – NorCal Tennis Academy
NorCal Tennis Academy was first started in 2003. It has now grown to be one of the largest and most successful tennis academies in all of California. They have 5 locations: 3 in the South San Jose area, one in Morgan Hill, and one in the Fremont-Newark area.
Headed by coach Thomas Le, this academy has produced Northern California standouts year after year, sending them off to prestigious colleges throughout the country. Coach Le's impressive resume, seen here, has played a large part in that.
Their coaching philosophy is fairly simple. It starts with giving young players a solid foundation that will allow them to improve tremendously as they grow and gain experience. Their website claims that "Together our 10U and 12U players have been winning an impressive 28 consecutive team sectional championship wins and close to a dozen individual sectional titles (the highest level in each age group)." Their academy offers private lessons, group training, strength and conditioning, and team competition and tournaments for any player between the ages of 10 and 18.
Because they are not a boarding academy, their rates vary depending on how long your sessions are, and how individualized they are. Their system consists of a "credits" system, where lessons are paid for in packages. Visit their site at norcaltennisacademy.com.
#4 – Eagle Fustar Tennis Academy
Eagle Fustar Tennis Academy runs out of 5 separate locations all across Northern California. They have clinics run by experienced coaches in Sunnyvale, Cupertino, Saratoga, Fremont, and Santa Clara.
This academy was founded in 2003 by Brian Eagle and Nick Fustar. They both have lengthy playing and coaching resumes. Additionally, they pride themselves on catering to each player's individual needs. Not every player has the same goals, but they make it their mission to achieve whatever they might be. They have clinics for every level, as seen below.
While they do have a full time program, they also have an flexible drop in system that allows players to drop into the academy at a per clinic rate. This way there is no long term commitment if your child decides it isn't the best fit for them.
Their programs consist of:
Specialized fitness
Mental training
Academic support and college guidance
Expert coaching
Physio access
Cost of Eagle Fustar Tennis Academy
Pricing at Eagle Fustar depends on the level of the clinic and how many you purchase at once. For the High Performance Clinics, you can pay $90 dollars per clinic as a drop in rate. For more specific pricing, click here.
#3 – Sylvano Tennis Academy
Sylvano Tennis Academy is located in Santa Clara, California and was created by Coach Sylvano Simone. Sylvano began coaching in 1997. He has made it a priority to make junior players better through hard work, intensive training, and dedication to hours of training.
Sylvano Tennis Academy offers group and individual lessons for juniors of all levels and ages. His most advanced group focuses on the following key aspects to development:
Direction and planning to become a top ranked player
Intensive high energy work outs to improve concentration and fitness
Mental and fitness training
Reinforce proper techniques and skills
Train with players similar age and skill levels
Prices are not listed for Sylvano Tennis Academy, but you can obtain this information through contacting them directly. You can also learn more on their website at sylvanotennisacademy.com.
#2 – JMG Tennis Academy
The JMG Tennis Academy is located in Sacramento, California. Joseph Morris Gilbert, the man who founded the academy in 2011, is a widely respected coach across the country.
JMG tennis academy has produced several high achieving college and professional players. Among them are Jenson Brooksby, Collin Altamirano, and Katie Volynets. The list goes on to include many Blue Chip Recruits, including players that went on to play at Stanford, University of Texas, and so on.
Training at JMG consists of creating an individualized program for each player depending on their needs. Their website claims, "Most junior tennis academies focus on the quantity of group hours, JMG Tennis focuses on creating a specific individual custom program which is tailored to the players needs so he/she has the best opportunity to succeed."
The scheduling of this academy depends on the individual needs of the junior, so their schedule is not spelled out on their website. However, each player can expect the following:
Private attention
Group training
Physical training
Tournament consulting
Sports psychology
Academics
If you want your child to improve as a tennis player, this academy stands out. I have competed against several of their players in tournaments and they are all tough as nails. You can contact them at JMGtennis.com for pricing and details.
#1 – Gorin Tennis Academy
Rounding out our list at #1 for Northern California tennis academies is Gorin Tennis Academy.
With several locations across California, Gorin Tennis Academy is known to be one of the best academies in the United States. The main location is in Granite Bay, where the academy started. The head coach is Vitaly Gorin, who has coached top players such as Nikoloz Basilashvilli, Dimitry Tursunov, and Yaroslava Shvedova. All of them have reached the top 30 in the world.
There are only 7 courts at this academy, meaning you can expect more individualized attention from coaches. They offer both boarding and non-boarding programs depending on your needs.
Typical Daily Schedule at Gorin Tennis Academy
Their website claims that 85% of their players receive scholarship offers or go professional. This is an astounding number.
For full-time boarding, you should expect to pay about $33,175 per year. However, individual non-boarding classes come out to be much cheaper. For more information, visit their website at gorintennis.com.
Final Thoughts
While we have researched all of these academies, ultimately it is up to you to decide which is the best fit for your child. Each of these academies is a bit different with their strengths and weaknesses, so be sure to find a good fit rather than throwing your child to the "big name academy."
Hopefully this list is helpful in finding the right academy for you in California! If you have any questions, be sure to reach out directly to them, as they will be happy to give you details further than what we could provide. Happy training!