This is the least "MP" of the Head MP lineup.
A classic Head racket made better.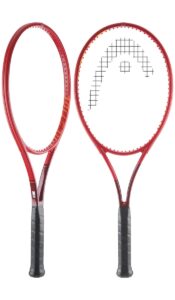 The number of strings running horizontally and vertically across the racket. A more dense pattern (18×20) offers more stability, while a more open pattern (16×19) offers more spin, power, and feel.
Generally, beginners should stick to lightweight or medium rackets (less than 11oz). More advanced players, however, should choose medium or heavy rackets (more than 11oz). (Learn more)
Swing weight is a calculated by using the racket's weight and balance. The greater the swing weight, the more power a player will get. (Learn more)
Balance means where most of the weight is centered in the racket. Head heavy rackets (HH) offer more power, while head light (HL) rackets offer more maneuverability. (Learn more)
These are some of the characteristics of the racket you should pay attention when deciding whether this is the right racket for you or not. If you not quite sure what they mean, you can just use the "What is this?" feature in order to learn more.
We've played with hundreds of rackets, so we like to be pretty thorough with our reviews. We were also told that we make the best Youtube racket reviews (yes, mostly by our moms), but also by this guy and some other cool people.
Please feel free to reach out in case you have any questions related to this racket – we'll be happy to answer them! In the meanwhile, here are some of the most commonly asked questions.
Name:
Brand:
Weight: 337
Swingweight: 323
Length: 27
String Pattern: 18×20
Balance: 7 HL
Beam Width: 20/20/20
Stiffness: 61
Recommended String Tension: