The game has sped up tremendously over the years with technology improving each year. You should make sure you are playing with a racket that will allow you to keep up with the times. After all, your racket is your tool: it should work for you, not against you. Thankfully, there are rackets on the market for any type of player.
These days, many players are looking for something with a little more easy power. With so much to choose from, it can be difficult to figure out which racket is best for you. We have come up with a simplified list to make your racket-choosing task a bit easier. Let's get into it:
When looking for a powerful racket, the "specs" that you'll want to consider most are head size, weight, and string pattern. Large head sizes, light rackets, and open string patterns will generally lead to more pop off the strings. When looking at rackets to choose from, look for some combination of these 3 things to find what you want.
Here are the powerful rackets on the market that we recommend as of July 2020:
For more detail into each of these rackets, keep scrolling. We have chosen these rackets based on our own hitting and play-testing experience, as well as conducting research of the specs that generally lead to power. Advanced specs can be found by clicking any of the photos of the rackets. Enjoy!
Our Recommended Powerful Rackets
Endorsed by Rafael Nadal, this racket will be sure to pack a punch. The Babolat Pure Aero is one of the rackets that is popular among all levels of players because it provides great maneuverability. The Aero technology (aerodynamic beam at the throat of the racket) allows the racket to glide through the air as the player swings.
As for the actual specs of the racket, it has a good combination of what we look for in a powerful racket. The head size is 100 sq. in., which is on the larger side for a racket that is popular among advanced players. This racket weighs 11.2 oz (318g) strung, and tte string pattern is 16/19, providing a good amount of power and spin.
When I tested this racket, I couldn't believe how big the ball came off with little effort. One impression I had was how easily the racket responded to spin. It seemed that I was able to add more power and spin with less effort, so this is a great option if that is what you may be looking for.
A downside to this racket was the control. As powerful rackets generally lack control, this did not come as a surprise. For my specific game style, it was too much as I struggle a bit more with finding control on my own. If you are interested in more in depth specs and information on this racket, click here.
Originally used by Andy Roddick back in his world #1 days, this racket has remained a best seller for Babolat. Currently used by Fabio Fognini, it provides great power and a large sweet spot. Using this racket will allow you to find the extra pop you're looking for.
Similar to the Babolat Pure Aero, the Pure Drive is widely used among all levels of play. Funny enough, the racket specs that we look for in a powerful racket are exactly the same in the Pure Aero and Pure Drive. It weighs 11.2 oz. (318g) strung, has a head size of 100 sq. in., and has a 16/19 string pattern. These 3 things, like the Aero, contribute to great swing speed.
The main difference is the technology. When I hit with the Pure Drive, I felt that it was a bit easier to control. The swing speed is not quite as fast, which we can likely attribute to the shape of the beam. The more traditional beam shape produced less spin.
Personally, I liked this racket because it gave me a bit more control than the other "powerful" rackets that I've tried. It was easy to swing, but had a bit more stability at contact. The Babolat Pure Drive is a great option and definitely worth testing for yourself.
The Extreme Pro is back and better than ever, after skipping a generation. Richard Gasquet and Matteo Berrettini are among the top professionals that use this one as it creates spin and power at will. The unconventional color scheme of this stick will cause many to overlook it, but don't be so fast to write it off.
The specs of the racket have everything we look for in a powerful racket. The head size is 100 sq. in., and the string pattern is 16/19. The main difference is that this one is a fair amount heavier than the others we recommend. At 11.6 oz. (329g) strung, we think that players with sound technique will benefit from using this one. This extra weight behind the ball will allow good ball strikers to plow through groundstrokes. However, you may want to consider other frames if your ball striking is not a strength.
When I tried this racket, I was surprised at the ball control I had when I needed it. I think that the extra weight allowed me to keep the ball on the string bed a split second longer, allowing for better placement especially on groundstrokes. The large head size and open string pattern gave me good access to spin when desired.
If you are an intermediate ball striker looking for a little extra zip on your shots, look no further. The Prince Legacy O3 105 will be sure to give you the power you're looking for.
This racket is very light, weighing 10.4 oz. (295g) unstrung. The string pattern is 16/19. This racket has the largest head size of the rackets recommended in this article at 105 sq. in.
Typically I think that these specs can be too "flimsy" for players of an intermediate level and higher, but this racket was a bit different because of how dampening it is on contact. I was impressed with the user-friendly feel this racket gives.
Most rackets shake and rattle at the contact point when they are this light and the sweet spot is this big, but the Prince O3 Legacy 105 is different. If you try it and you're looking for something with even more power, Prince makes a version with a 110 sq. in. head as well.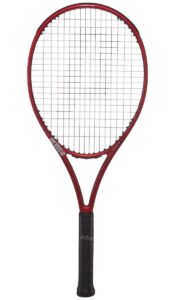 This line of Wilson racket is gaining steam as you see more pros using it each year. Endorsed by Borna Coric, Feliciano Lopez, and Vika Azarenka, this powerful racket can be well used by all levels of players.
This racket meets all of the spec requirements that we look for in a powerful racket: 100 sq. in. head, 11.2 oz (318g) strung, and 16/19 string pattern. The beam is slightly thicker than some of the other rackets on this page, so it absorbs pace nicely on contact.
One of the things that struck me when I tried this racket was the maneuverability. I found it extremely easy to get this racket flying through the air. As racket head speed is important for creating power and spin, this component of the racket made it quite attractive. I also found that when serving, I easily found some extra pop, which never hurts.
Conclusion
Now that you know our favorite powerful rackets out there, hopefully you can make a more informed choice. We want to stress the importance of trying rackets out before you buy them. At Tennis Warehouse, you can demo rackets and return them before you have to commit. Everyone plays tennis differently, so what we like may be totally different than what you like. Click any of the racket photos above to be taken directly to tenniswarehouse.com, where you will be able to browse a large selection of rackets.
Let us know in the comments below what you thought of this article, and what racket you have chosen to be your tool!