Choosing a racket that suits your game style is incredibly important. While picking a racket ultimately boils down to personal preference, you should aim at understanding what do you need from your racket in order to pick the best tool for the job. In this article we will focus on defensive players and the rackets we believe are most suitable for those players.
If you are a defensive player you should be looking for rackets that have large sweet spots, bigger head size, solid weight to help you send balls back deep on the court and a lot of maneuverability. In 2020, these are the rackets we believe match this criteria:
If you want to learn more about each racket and the type of player each one is more suitable for, keep scrolling down.
Defensive Player Overview
Let's start by saying that choosing a tennis racket always comes down to personal preference, regardless of playing style. Because of that, the rackets highlighted in this article are recommendations based on our experience but not necessarily a rule.
Defensive players come in many different styles and it is important for you to know in which category you fall into. If we look at Nadal, Murray and Djokovic, three of the most effective players on defense we've ever seen, they play fairly differently (that is not to say they are not offensive, but we are focused on defense today). Nadal plays with a lot more spin and generates a lot more racket head speed, so he uses a lighter racket. On the other hand, Djokovic and Murray use much heavier rackets, relying on its mass to help them during defensive situations. Of course, this trio is the best of the best when it comes to defense but they serve as a good parameter since we can observe a clear difference in playing style between the three of them.
Types of Defensive Players
As we discussed above, the umbrella in which defensive players fall under encompasses several different playing styles. Because of that, it is important to understand who YOU are as a "defensive player". If you are reading this article, we assume that you are comfortable being on defensive and you want the best tool to help you on the job. There are a few types of defensive players:
Defensive Counterpuncher (Djokovic, Murray, Hewitt, Medvedev)
Aggressive Counterpuncher (Nadal)
Grinder (Coria, Canas, Nishioka)
Ask yourself in which category you are most likely to fit in order to pick a racket that suits your game the most.
Choosing a Racket That Is Most Suitable For Your Defensive Game/Needs
Now that you understand the differences within the "defensive player" range, you oughta ask yourself "what do I need my racket to help me with the most?" For example, I am a counter puncher and my shots are considerably flat. So the two things I needed from my racket were mass and control. I needed a racket that would help me hit deeper shots and allowed me to swing freely without launching the ball long. On the physical side, because I have a strong frame, I could handle a racket that was heavier and stiffer.
So these are the questions you need to understand about yourself. First, what does your game require? Do you need more spin so your shots bounce higher? Do you need more depth? Do you need more control so you can swing more freely? On top of that, pay attention to your physical condition. Do you have any chronic injuries? Do you have the strength to play with a heavier racket for long periods of time? Again, these are all suggestions but the key is to know yourself as a player as well as your physical limitations before you pick a tennis racket.
5 Rackets We Love For All Kinds of Defensive Players
Now that you have a better understanding on what to look for in a racket, we want to give you our recommendations. We considered all kinds of defensive players when picking the following rackets, so most people can find a racket that will suit their needs.
All the rackets are linked to our friends at Tennis Warehouse and if you want to learn more about any particular frame, just click on the pictures for more information. Let's get to it!
Head Graphene 360+ Speed Pro
I might be biased because this is my racket of choice, but the Speed Pro is one of the most competent rackets in the market. It is made for modern tennis, which consists of fast swing speeds, controlled aggression and a big sweet spot. For defensive players who like to use the pace of the ball in order to return it back deep on the court, this is the perfect choice. The 100sq inches head size helps with forgiveness without sacrificing the feel and maneuverability of the racket.
Another plus is that this racket is highly customizable to suit your needs. If you need to add extra weight or fiddle with the balance to help you gain power/control/precision, this is a fantastic choice. Players who enjoy hitting through the court will be rewarded by using this racket. Players looking for extra spin might want to look elsewhere or try the MP version of the Speed with the 16/19 stringing pattern.
For the full specs on the Head Graphene 360+ Speed Pro, click here.
Babolat Pure Aero
We couldn't talk about defensive rackets without mentioning the Babolat Pure Aero, Rafael Nadal's racket of choice. Now, this frame is specially designed for the production of spin and power, so people might argue that this is a racket for offensive players. To be honest, we wouldn't argue with that logic but we believe that this is a great choice for defensive players as well. The Babolat Aero line is so popular because it helps players who do not have easy access to power to hit the ball harder.
Players who will benefit the most by using this frame are the ones who generate a lot of racket head speed and whose shots fly high over the net with a big arc. The lighter weight will help accelerate through every shot, making the ball bounce higher. On top of that, the quickness of the racket makes it a choice for players who enjoy chasing balls and hitting passing shots.
This is not the most stable frame, so if you are looking for a racket with plow through then look somewhere else. On top of that, it is a powerful racket so if you need more control, there are a few better options on the market.
For more on the Babolat Pure Aero, click here.
Wilson Clash 100 Tour
The Wilson Clash 100 is a good option for someone who wants a lot of spin without sacrificing control and feel. While the Babolat Pure Aero is the spin king, the frame is very powerful and stiff, which might be a negative for some players. So the Clash provides a happy medium. It is a great racket for those who want to add extra spin to their game while being comfortable and easy on the arm. The frame swings through the air fast and the sweet spot is big, which will help when you need to scramble through defense and hit passing shots.
Again, much like the Pure Aero, the Clash is not for players looking for plow through and more penetrating shots. For more information on the Wilson Clash 100 Tour, click here.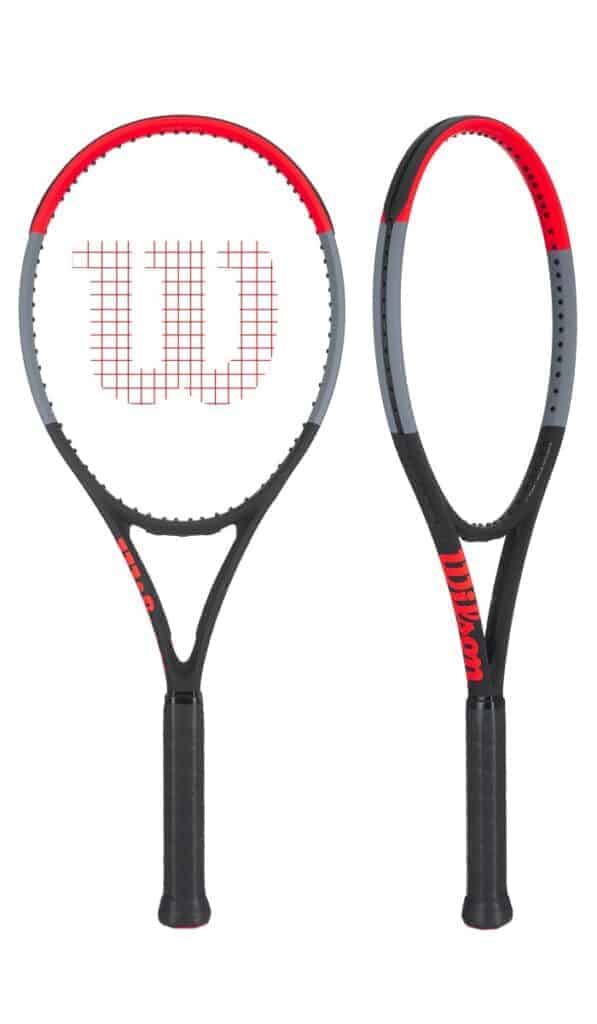 Yonex VCORE PRO 97HD
This might look like a strange choice, but the VCORE PRO 97HD can be a great choice for defensive counterpunchers. This frame offers a lot of plow through and it will not get pushed around by fast shots. Players who like to construct their points will enjoy the precision and feel of this racket. The VCORE PRO 97HD provides a ton of control so players can swing freely during defensive situations and trust the mass of the racket to assist them in hitting deep shots.
This is more of a traditional player's racket but if paired with the right person, it can be an incredibly effective frame. Weaker players might struggle generating power with this frame, so make sure you test it out. Here is some more information on the VCORE PRO 97HD.
Tecnifiber TFight 320 XTC
This mouthful named frame is another great choice for solid defensive baselines (ask John Millman). The 320 XTC is a fantastic option for players who love staying solid on the baseline and redirecting pace. It provides a lot of control, maneuverability and plow through, so you can rely on it when you need to deal with hard shots around the court. This frame is very balanced and it will help you swing with confidence through easy and difficult shots.
Much like the Speed, this is a solid option for players who like using their opponent's pace to generate power. At the same time, it is not the racket for those looking for more power and topspin. To learn more about the. TFight 320 XTC, click here.
Conclusion
So there you have it, these are our favorite rackets for defensive players. Again, we would like to remind you that choosing a racket always comes down to personal preference. We highly advise you testing out a racket extensively before committing to a purchase. In this case, it is important for you to understand what kind of defensive player you are in order to select a racket that will correctly suit your needs. Let us know in the comments below which is your weapon of choice at the moment