Choosing a racket that suits your game style is as important as anything else. Every player will have their own preferences, and you should keep this in mind when shopping around for the best racket for you. You should start by narrowing your search down to rackets that are good for the way you play. In this article we will focus on rackets that we think are most suitable for aggressive players.
There are different styles of aggressive play in tennis, and their ideal rackets will be different from each other. We will get into the different types of aggression a bit later, but remember that choosing a racket is personal. Make sure you are doing research that is best for you and your game.
Generally, aggressive players should look for rackets that reward big hitting. Aggressive baseliners will want a powerful, spin producing racket while players that finish most points at net will look for something more stable, creating more mass through contact. These rackets will look completely different from each other.
Here are the rackets that we recommend for aggressive game styles in 2020:
Aggressive Baseliner:
Aggressive All-Court Players:
Remember: every player has different preferences. Articles like these are nothing more than general recommendations. They are not rule, they are simply our takes on what we prefer.
If you'd like to learn more about each racket and why they are best suited for aggressive play, continue reading.
Types of Aggressive Players
Before we get started with the racket reviews, let's make sure we are clear on the difference between aggressive baseliners and aggressive all-court players. It is your job to decide which category you fall into best before you start looking at rackets to play with.
The two main types of aggressive players are:
Aggressive Baseliners
Aggressive All-Court Players
In today's game, I would classify the majority of top 100 players as aggressive baseliners. Players that fit the mold of this category are Juan Martin del Potro, Fabio Fognini, and Dominic Thiem. Though these 3 players all have a different style, they all try to work the point from the baseline taking massive cuts at the ball when they have the chance. This isn't to say that they are afraid to come to the net when needed, but they all prefer to rip a forehand winner rather than force their opponent to pass them.
Aggressive all-court players, though becoming more rare, look to come to the net whenever possible. These players are somewhere in between the serve and volley style of Pete Sampras and an aggressive baseliner. Though there are several on tour, the textbook example is Roger Federer. While an all -court player is comfortable from the baseline, their ultimate goal is to finish points with a volley.
Choosing a Racket Suitable For Your Aggressive Style's Needs
Now that you know the difference between the two main aggressive styles of play, you should know which category you best fall into.
When choosing a racket, you have to ask yourself "what do I need my racket to do for me?" In my own game. I am an aggressive all-court player that tries to set up points with big groundstrokes to find my way to the net. Therefore, I need a racket that provides pop on the groundstrokes and serve, but also provides a stable and controlled feel at the net. My racket of choice is the Babolat Pure Strike because it gives me all of these things, but it won't work for everyone.
Before you read our reviews, ask yourself:
What does my game require?
Do I hit with a lot of topspin, or do I hit flat?
Do I lack power on short balls?
Do I need help gaining power on my serve?
Do I make wild unforced errors?
Do I have any chronic injuries?
You know yourself better as a player than we do, but these are key things to think about when selecting a racket. Keep your strengths and limitations in mind.
The Rackets We Personally Recommend
Now that you have a better idea of what you're looking for, we can give you our recommendations. We considered each racket on the market and found the ones below to be most suitable for aggressive players.
Each racket below is linked to our friends at Tennis Warehouse. Their website contains more in depth information of each racket, so make sure you browse their site before you buy!
4 Rackets For Aggressive Baseliners
The rackets below are ideal for big hitters from the baseline. The specs are tailored for power and spin, and most will give a bit of extra juice on your serve.
Since this racket was first used by Andy Roddick in his #1 days, it has continued to be a best seller for Babolat generations later. Currently used by Fabio Fognini, this racket will give you that extra pop you're looking for.
The Pure Drive is popular among all levels. The racket specs that we look for in an aggressive baseliner's racket are ideal in this one. It weighs 11.2 oz. (318g) strung, has a head size of 100 sq. in., and has a 16/19 string pattern. These things allow for a high swing speed, contributing to that modern aggressive style with big swings and lots of topspin.
Personally, I liked this racket because it gave me a bit more control than the other "powerful" rackets that I've tried. It was easy to swing, but had a bit more stability at contact than I expected. It also gave me an extra 5-10 mph on my serve, which is always a nice bonus for any player. The Babolat Pure Drive is a great option for the modern game, and definitely worth testing if you play with a lot of shape on your ball.
By choice of Rafael Nadal, this racket is top of the line in both power and spin. The Babolat Pure Aero is also popular among all levels of players because it is maneuverable (easy to swing). The Aero technology (aerodynamic beam at the throat of the racket) allows the racket to glide through the air as the player swings.
The general specs we look for in power and spin are identical to those of the Babolat Pure Drive (seen above). The frame's head size is 100 sq. in., weighs 11.2 oz (318g) strung, and has a string pattern of 16/19. The combination of these specs with the Aero technology make this racket one of the most lively sticks on the market.
When I tested this racket, I was most impressed with how little effort I had to put into my swing to produce topspin. The response to spin was amazing, and this is coming from a guy who generally hits the ball flat. If you're looking for easy spin and power from the baseline, this is a great option. Additionally, I found that the pop on the serve was similar to that of the Babolat Pure Drive. Putting this frame in my hand instantly gave me 5-10 mph on the serve.
A downside to this racket was the control. As my ball is flatter than most from the baseline, I had a bit of a hard time finding my range in extended points. This racket is made for players with tons of racket head speed and shape on their balls, so it isn't for me. If you are interested in more in depth specs and information on this racket, click here.
The EZONE 98 is the racket of choice of Naomi Osaka and Nick Kyrgios. This frame is perfect for players looking for easy access to power, increased topspin, a large sweetspot, and great feel. It is one of the most user friendly rackets in the Yonex lineup.
As for specs, the EZONE 98 has similar specs to the Babolats seen above. The main difference is the head size being 2 sq. in smaller at 98. This gives more control and a comfort in swinging away freely. The string pattern is 16/19 and the weight is 11.3 oz. (320g) strung.
If I were to personally switch to a Yonex frame, this would be the one. It has that same soft, powerful feel that many desire in the Babolat Pure Drive, but loads more control. I felt that the slightly smaller head size gave me the ability to hit the ball where I wanted to. The beam is thin, similarly shaped to the Aero technology of Babolat. However, the feeling off the strings is a bit more stable.
It makes sense why Nick Kyrgios chooses to play with this racket with the racket head speed that he is able to create. When you connect nicely with this stick, there isn't a much better feeling out there. If you're looking to find a racket that generates power, definitely consider giving the Yonex EZONE 98 a try. Click here to see more about this racket.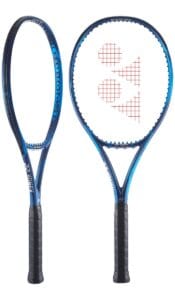 The Graphene is most notably endorsed by Taylor Fritz and Diego Schwartzman. Those two guys absolutely punish the ball from the baseline, so you shouldn't need much convincing on this one.
The Radical MP has a weight of 11 oz. (312g) strung, with a head size of 98 sq. in. The string pattern is 16/19, giving it a similar combination of power and spin to that of the EZONE.
When I hit with this racket I could tell why it is the choice of several big hitters on tour. I felt that this racket had a lot of control and responded to spin nicely when warranted. This frame will not produce spin as easily as either of the Babolats listed above, but that is not necessarily a bad thing.
Personally, I would add some weight to it to give it more mass through the ball at contact. However, the lighter stock weight is great for intermediate players, or advanced players that lack strength. The low stock weight is also great because it gives you the ability to add lead tape where you feel you need it most. Click here to see more about the Radical.
4 Rackets For Aggressive All-Court Players
The 4 rackets below are perfect for players that are eager to finish points at the net. They differ from the frames that you see above, mainly in weight, string pattern, and head size. These will produce more stability and control while maintaining enough power to bully your opponents around the court.
Starting off our lineup is the widely used Wilson Blade 98. This frame is extremely popular among touring professionals because of its all-around quality.
The Blade weighs 11.4 oz. (323g) strung, had a head size of 98sq. in., and an 18/20 string pattern. The nice thing about the Blade is its variety; Wilson sells variations of this racket that differ in weight, head size and string pattern as well, so you are bound to find a version that you like. The specs of this frame shines in touch/feel, so you are sure to be confident in your accuracy around the net.
Along with being great at the net, this racket is ideal for groundstrokes because it allows the player to take full cuts, making it easier to earn their way to the net.
The Wilson Blade is simply a favorite for players that have fairly polished technique. We also recommend it for players less advanced on their tennis journey because of its all around playability. I can't guarantee that you will be serving like Milos Raonic, but there is a reason he uses this racket. For more info on the Wilson Blade, click here.
This frame is a great modern twist on Pete Sampras's original Wilson Pro Staff. Roger Federer is arguably the best server and volleyer in tennis today and his racket is one of the best out there for the job.
This is a heavy frame, weighing at 12.6oz. (357g) strung. However, it is extremely head light (9 points) so its weight does not sacrifice maneuverability. The racket is extremely well balanced because it provides incredible feel, touch and control while still rewarding big cuts.
Playing with this frame, I could not get over how much feel it has. Precision is consistent on slices, volleys, and serves. We think that this is a serious contender for best serve and volleying racket on the market.
While this is a great "player's racket," the weight is not for everybody. You need to be strong enough to swing the racket. Don't allow your ego to get in the way here; if it feels too heavy, it probably is. Luckily, Wilson makes a lighter version so you can try that one out. For more on the Wilson Pro Staff 97RF Autograph, click here.
Babolat is known for making the most powerful rackets because of the Pure Drive and Pure Aero (shown above). However, the Pure Strike added a much needed control aimed frame to their brand. As my own racket of choice, the Strike is a bit friendlier than the Pro Staff and Blade we saw above. It is definitely aimed at solid baseline players who want spin and control.
Along with its pure baseline play, this racket also performs on serves and volleys. It weighs in at 11.4 oz. (323g) strung, has a head size of 98 sq. in., and a 16×19 string pattern. While a bit lighter, it is balanced so the swingweight is higher. This gives great stability and mass through contact without a lack in rewarding aggression.
This a great all around racket made for modern tennis. It is solid from the baseline but if you want to be more offensive and serve and volley, it feels crisp yet comfortable".
This racket is user friendly and a great choice for players of all levels. For more info on this racket, click here.
Rounding out our recommendations is the Head Graphene 360+ Prestige Midplus. While the name is a mouthful, this racket will do the talking for you on the court.
Prestige rackets have always aimed at providing an old-school feel to a modern frame, and the 2020 version does just that. This model excels in control and feel, perfect for an all-court player.
The updated Prestige weighs 11.9 oz. (337g) strung, has a 98 sq. in. head size, and an 18×20 string pattern. Though the string pattern is dense, the 2020 version has a larger sweet spot than the previous model. Head's Graphene 360+ technology was crafted for more comfort and forgiveness in mind.
Fellow MyTennisHQ player used this racket on the tour using the previous generation Prestige and loved it. He says that when he tried this version, he immediately liked that it was more user friendly without sacrificing the Prestige feel.
This is a fantastic option for aggressive all-court players in this modern era of tennis. For more information on the Head Graphene 360+ Prestige Midplus, click here.
Key Takeaways
Hopefully this article was helpful in finding you a racket that suits your aggressive gamestyle! Depending on whether you're an aggressive baseliner or aggressive all-court player, pay attention to the racket specs that will fit your game.
In summary, remember these few things:
Know your game's strengths and limitations, and find a racket that will help you.
Know what specs to look for in a racket that will highlight your strengths.
Always try a racket before you switch to it. Rackets are personal and comes down to how it feels in your hand, not what the reviews say.
Click any of the links in our articles to buy straight from Tennis Warehouse!
If this article helped you, let us know in the comments below!