Happy 6-Love Saturday!
I hope your holidays were great and that you were able to recharge and get ready for 2022. Here are 2 exciting news:
1) TENNIS SEASON IS BACK! – We can finally say goodbye to the December "tennis-less-ness" that haunts us every year;
2) Today we're starting our weekly 6-Love newsletter, which will contain our 6 most relevant thoughts during the week about the tennis world. These can be about new rackets being launched, players to watch, match summaries, or anything else we found interesting. We hope you enjoy this new format!
With that said, here are 3 players to watch, 1 quote from players, 1 tip from us, and 1 question for you:
---
3 Players to Watch
I. Dan Evans – in our humble opinion, the MVP of the ATP Cup so far. The 31-year-old and #25 ranked won his 3 singles matches (fairly easily), destroying Struff 6×1 6×2 and defeating Shapovalov and Isner with authority. As if that wasn't enough, he teamed up with Jamie Murray to defeat the solid doubles teams from Germany and the US. Not only that, he hit a fantastic behind-the-back shot to win a key point in doubles. Liam Broady (GB's captain) is probably bitter about playing Joe Salisbury instead of Evans during the doubles match against Canada. We could see Dan making a run at the Aussie.
II. Jannik Sinner – Even though Jannik was the easy favorite in all his 3 matches, he won them well and, most importantly, playing good tennis. He's been able to continue the positive momentum that led him to the top 10 in late 2021, and we're expecting to see him accomplish great things this year. We wouldn't be surprised to see him in his first GS semi-final this year – and maybe even a final. Here's a quick look at his rankings over the years: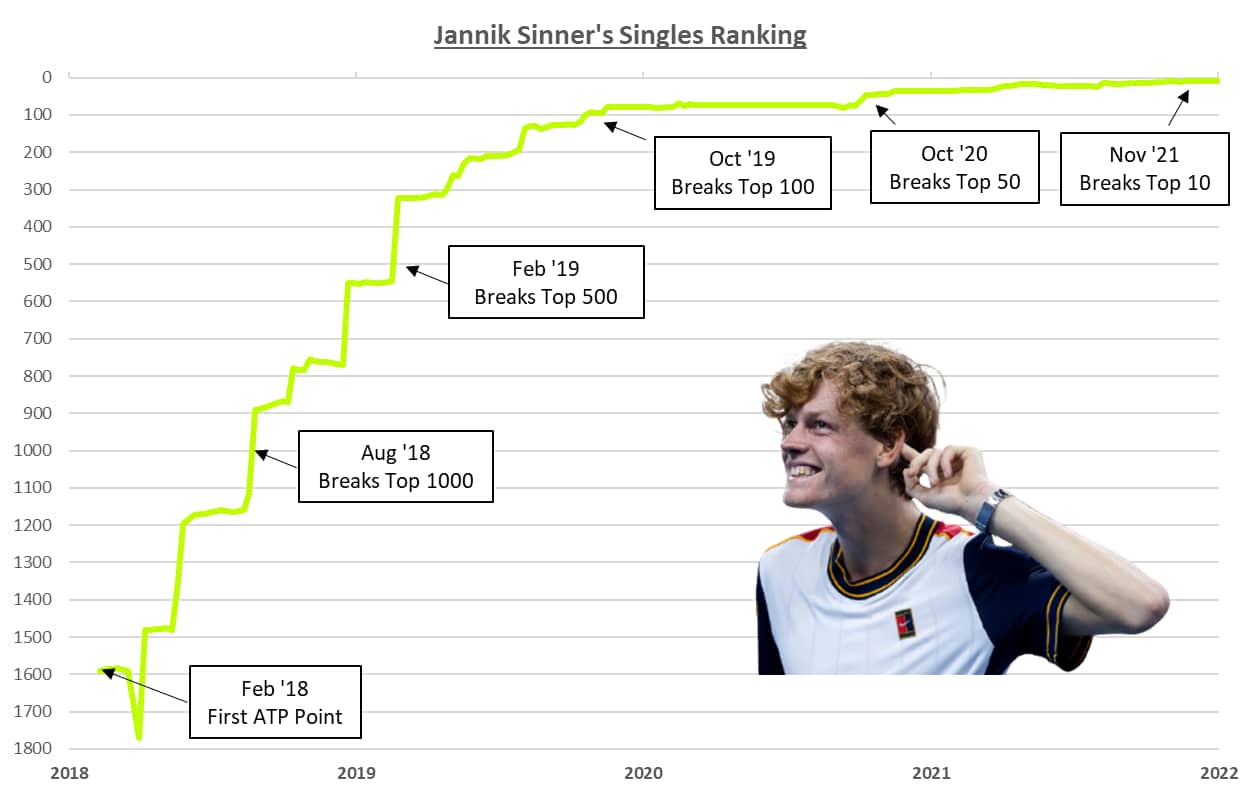 From unranked to top 10 in less than 4 years. Remarkable – this kid is going places.
III. Stefanos Tsitsipas – This 3rd player should be watched not with excitement, but with disappointment. While his strokes remain elegant as always, his performance at the ATP Cup was pretty sad. Granted, he's recovering from an injury and it's not easy to stay motivated when your best teammate is ranked #399 in the world. Nonetheless, if Stefanos doesn't get his head in the right place soon, he'll start falling behind others like the "Ev" crew (Zverev, Medvedev, Rublev) and Sinner.
---
1 Quote from Players
Naomi Osaka: "I only really have one major goal this year, and it's completely unrelated to results and stuff like that. I just want to feel like every time I step on the court… I'm having fun […] I'm the type of person that cared a little bit too much about the results and the ranking. I just need to find a way to enjoy the game again, because that's the reason why I was playing in the first place."
Regardless of what your thoughts are on Miss Osaka, this is a pretty important thought.
You see, you usually start playing a sport because it's fun. With time, you start wanting to not only play, but to win. But in order to win, you must become better – and to become better you need to practice hard. Eventually, all that practice starts to become too repetitive and frustrating, and the sport you once loved stops being fun. The moral of the story here is that you need to 1) remember to make practice fun, and 2) learn to enjoy the grind (see Rafa Nadal).
---
1 Tip from Us
Karue: "For you to be successful in competition, you need a player identity. Instead of just categorizing yourself as a 'grinder' or an 'aggressive baseliner', you should figure out what your opponent is thinking when they are playing against you. Do they think you have a great serve but are a bad returner? Have a good forehand but don't like low balls? Once you understand what your opponent thinks about you, you can develop a successful strategy to avoid your weaknesses and play to your strengths."
If you want to check Karue's full tip and more tips on how to add pressure on your opponent, you can check out the full video here.
---
1 Question for You
What are your thoughts on the whole drama with Djokovic, his vaccination status, and the Aussie Open?
If you enjoyed this newsletter, please share with others.
Send this newsletter via Email , Whatsapp, or Twitter.
Until next week,
Karue & Gui
Former junior, college, pro tennis players, and co-founders of My Tennis HQ